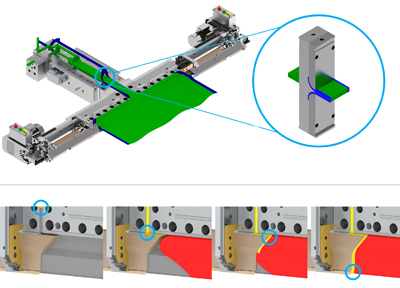 Schematic above, with upper die and feedblock halves removed, shows encapsulation achieved with Nordson feedblock insert (circled); schematics below show a new EDI EPC die, with encapsulating polymer introduced in the die rather than in the feedblock
SAM North America Uses an EDI Feedblock from Nordson to More than Double the Line Speed in Extrusion Coating of PLA and Reduce Coat Weight by 40%
June 29, 2021: Technologies developed by SAM North America, LLC and Nordson Corporation have made it possible to increase throughput and reduce coat weight in the extrusion coating of biopolymers such as PLA by encapsulating the edges of the coating with LDPE.
While conventional coextrusion yields two or more materials in horizontal layers, special encapsulating inserts developed by Nordson for its coextrusion feedblock make it possible to extrude additional material along either edge of this horizontal structure. Using this technique, SAM North America has found that encapsulating a PLA coextrusion with edges of LDPE makes it possible to offset deficiencies of PLA—in particular its low melt strength—that have limited its melt curtain stability, draw-down ratio, line speed, and coat weight.
"Using LDPE edge encapsulation on our pilot line, we have achieved line speeds in excess of 1200 fpm [366 mpm] with PLA, as against less than 600 fpm [183 mpm] with PLA alone," said Ed Lincoln, V.P. Extrusion Sales of SAM North America. "We have seen coat weight reduced from 16 gsm to less than 10 gsm."
The high melt strength of LDPE has helped make this polymer by far the most widely used in extrusion coating. "For processors wishing to replace some portion of their LDPE usage with biopolymers, a main obstacle has been that their lower melt strength causes extreme neck-in and edge instability at desirable line speeds," said Sam Iuliano, Chief Technologist for Nordson's EDI extrusion die and feedblock business. "By introducing a higher-melt strength material on each edge of the melt curtain, edge encapsulation minimizes the processing limitations posed by many biopolymers."
Neck-in is the tendency of the polymer web to become narrower as tension is applied when it exits the die. The result is a build-up of material along the edges of the web, or "edge bead," that must subsequently be trimmed away as scrap. To ensure that this edge bead consists of the lowest-cost polymer in the coextruded structure, Nordson has developed customizable feedblock inserts that introduce flow of the low-cost polymer only at the edges of the structure. The combined materials are then distributed to the final target width in the flow channel or manifold of the die.
While the encapsulation inserts can be readily retrofitted into existing EDI feedblocks, Nordson offers new EDI dies equipped with the EPC deckle system, which can be adjusted to reduce edge bead formation, and a melt flow system in which the edge encapsulation polymer is introduced in the die rather than in the feedblock. The port for introducing the encapsulation polymer moves in concert with the deckle mechanism.
"By introducing the encapsulation polymer at this point in the process, the interface between it and the core structure is more defined and the transition overlap between the encapsulation material and the biopolymer material is reduced," said Mr. Iuliano. "The die limits the formation of edge bead and reduces the amount of edge trim."
SAM North America has also developed coextrusion techniques for encapsulating biopolymer structures with LDPE that permit rapid change-over between conventional and biopolymer coatings. The technology addresses the wide differences in processing properties between the two materials. Andy Christie, managing director of SAM North America, will introduce the technology at the Extrusion 2021 Conference, September 21 – 23 at the Donald E. Stephens Convention Center, Rosemont, IL.
SAM North America (www.sam-na.com, LLC is a division of Sung An Machinery Co. Ltd., a global supplier to the printing and converting industry. It is based in Phoenix, NY, U.S.A. Tel: 1-315-934-4287. Email: info@sam-na.com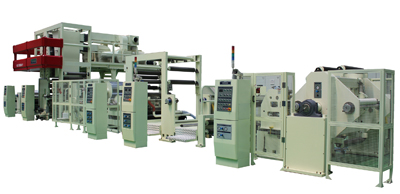 SAM North America coextrusion coating and laminating laboratory (photo) handles web widths up to 36 in. (914 mm), from flexibles to board, pre-treated with corona, primer, flame or ozone.
Nordson Corporation engineers, manufactures and markets differentiated products and systems used for the precision dispensing of adhesives, coatings, sealants, biomaterials, polymers, plastics and other materials, fluid management, test and inspection, UV curing and plasma surface treatment, all supported by application expertise and direct global sales and service. Founded in 1954 and headquartered in Westlake, Ohio, the company has operations and support offices in more than 30 countries.
Nordson Polymer Processing Systems (www.nordsonpolymerprocessing.com) provides customers with engineered components to pelletize, filter, meter, and give shape to plastic and fluid coating materials. Nordson Corporation offers a broad portfolio of industry-leading technologies. Nordson delivers a full range of precision melt stream products from filtration systems, pumps, and valves to the extrusion dies and pelletizing systems to meet the constantly evolving needs of the polymer industry.
Source: Nordson