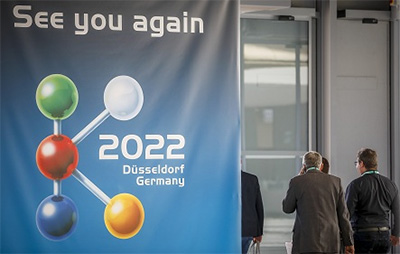 The pandemic. Supply chain ruptures. The Great Resignation. China trade tensions. Climate change and extreme weather events. Soaring inflation. Stock market volatility. The war in Ukraine.
Seldom in our lifetimes have we experienced such an extended period of disruption and uncertainty. The most recent may have been the financial crisis of 2008-09, but that was purely economic and not further complicated by the lockdown and supply-chain issues wrought by COVID-19. Today at least household and business sector balance sheets largely remain healthy, as opposed to how they fared during the financial meltdown 14 years ago.
These various factors have upended end markets and made even the staffing of companies and the securing of necessary parts and materials a challenge, to say the least.
North America's plastics industry has not been spared from these issues, but it has held up reasonably well, given the crucial role that plastic products play in our everyday lives, and especially in vital healthcare applications. If anything, the pandemic only helped to reinforce the value of plastics –– yes, even largely vilified, disposable, single-use plastics –– in helping to keep us all safe and healthy.
"During the 2020 COVID-19 recession, stimulated by federal relief dollars, U.S. plastics consumption held up at a time when employment was down and capacity was constrained," noted the Washington, D.C.-based Plastics Industry Association (PLASTICS) in its "2021 Global Trends" report. "The result was higher imports and a trade deficit."
Industry exports in 2020 fell 8.2%, and imports rose 1.8%, the group reported, with Mexico and Canada remaining the U.S. plastics industry's largest export markets.
The recent COVID-related lockdowns in China have further slowed global trade and impacted the United States and its plastics industry. One need look no further than the number of out-of-stock items at major retailers such as Walmart and Home Depot.
McKinsey on U.S. manufacturing
In an April podcast, Eric Chewning, a partner in the Washington, DC, office of consulting firm McKinsey & Co., offered the following summary of U.S. manufacturing and its overall importance to the nation's economy:
"U.S. manufacturing accounts for about $2.3 trillion of gross domestic product (GDP). It employs about 12 million people and supports hundreds of local economies across the country. Now, those headline numbers don't really capture the outsize impact of manufacturing.
"Although it only accounts for about 11% of our GDP and 8% of direct employment, it drives 20% of our nation's capital investment, 30% of our productivity growth, 60% of our exports, and over 70% of business R&D. And it also generates important spillover effects that help impact the broader economic activity in related sectors."
For its part, the plastics industry plays a key role. The Plastics Industry Association's "2021 Size & Impact Report," published last year, estimated the total value of U.S. plastics industry shipments in 2020 to be $394.7 billion. The industry directly employed 945,300 workers, which was down almost 6% from pre-pandemic 2019.
Taking suppliers to the industry (and their upstream shipments) into account, the total value of shipments in 2021 grew to $541.6 billion and employment –– direct and indirect –– rose to 1.55 million.
Showing improvement
Despite all these challenges, U.S. plastic products manufacturing rose 4.9% in 2021 from the prior year, according to U.S. Federal Reserve data, which was in line with the association's late-year projection.
That number could have been higher, but resin production continued to lag, said Perc Pineda, noting that materials shortages weighed down plastic products output. Pineda, the group's former chief economist who stepped down in February after five years in that role, cited Federal Reserve data showing 2021 plastic materials and resin production down by 0.4% –– even more than the 0.2% than the association forecast late last year.
Plastics machinery production last year rose by a robust 16.8% compared with the pandemic-ravaged 2020, and plastics mold manufacturing grew by a solid 9.7% in 2021.
"While the outlook for 2022 remains positive, unresolved challenges in 2021 spilling over into 2022 will cause plastics industry growth to slow," PLASTICS projected in its latest quarterly outlook, published in December.
Even so, the latest federal data for March 2022 indicate that U.S. plastics product manufacturing and resin production were up 7.6% and 14.1%, respectively, from March last year, according to Pineda, who has a master's degree in economics from American University and a Ph.D. in economics from The New School (in addition to master's degrees in both philosophy and international management). He served as a staff analyst at the International Monetary Fund and as a senior economist at the Credit Union National Association.
"These are uncertain times indeed," he said in a mid-May interview, "and markets hate uncertainty."
The Russia-Ukraine war, and specifically the U.S. sanctions on Russia, has impacted the plastics industry in different ways. As one example, Pineda noted that Russia is the seventh-largest supplier of fluoropolymers to the U.S. But, while concerning, imports of PTFE and other fluoropolymers from Russia amounted to just over 1,666 metric tons, or 5.4% of U.S. total imports of such materials. Nearly half of U.S. fluoropolymer imports come from Japan, India and China, so the impact has been muted.
The Ukraine conflict also has contributed to soaring oil and energy prices, which affects virtually all manufacturing, including plastics equipment manufacturing. With U.S. trade sanctions stifling iron and steel imports from Russia, the prices of those metals have increased, creating cost challenges for machine builders.
Demand for plastics equipment
Overall, the U.S. plastics machinery market continues to see healthy demand while continuing to experience supply-chain bottlenecks. Business investment spending on industrial machinery in the U.S. increased by 19% in the first quarter of 2022, compared with the same year-ago period. That represents an increase of $46 billion, adjusted for inflation, according to Pineda. However, low parts inventories are extending production times and slowing deliveries.
For the past couple of years, the U.S. plastics machinery market has benefited from low interest rates and robust demand. Pineda previously projected plastics machinery production growth in the U.S. would be 4.8% this year. But with interest rates now rising and supply-chain issues continuing, he says he would not be surprised to see that sector's 2022 production growth closer to 3.5%.
The fourth quarter of the calendar year typically sees the biggest shipments of U.S. plastics machinery, and last year's final three months was no exception. Its 24.1% quarterly increase in value of shipments was the largest uptick since the COVID-19 lockdown. Pineda says that –– barring another huge, unexpected shock –– he is expecting a single-digit increase in U.S. machinery shipments this year.
Tooling sector rebounds
Harbour Results Inc. (HRI), meanwhile, reported in April that the U.S. tooling industry rebounded in 2021, with companies seeing year-over-year revenue growth. HRI, a Southfield, Mich.-based manufacturing industry consulting and benchmarking company, published the insights in its "Q1 2022 Harbour IQ Manufacturing Pulse Study."
Utilization ranged between 81-89% throughout 2021 for mold and die shops alike. And although 2022's first quarter has started out slightly slower, HRI reports that shops are predicting utilization will reach 90% for molds and 82% for dies by this year's fourth quarter.
The report –– based on a survey of industry companies –– also noted the manufacturing industry's continuing challenges, in the form of supply-chain disruptions, raw material availability and costs, worker shortages and global economic uncertainty. Respondents said the higher cost of business and access to labor remain the top concerns for U.S. manufacturers.
"Despite all the chaos in the manufacturing marketplace, we are feeling positive about the opportunities for the tool and die industry in 2022," stated HRI President and CEO Laurie Harbour. "According to our automotive tooling launch analysis, HRI predicts the North American automotive tooling spend to be $7 billion in 2022, up from $5.4 billion in 2021. This increase in vehicle launches will positively impact the industry."
Uptick in resin production
Capacity utilization in U.S. resin manufacturing in March 2022 was 85.5%, said Pineda, marking a significant improvement from the 74.7% reported in March 2021. Still, it continues to trend down from April last year.
In an expansionary economic cycle, U.S. resin manufacturing usually averages between 85% and 95% capacity utilization. "Of course," he added, "we have seen weather-related factors causing production to slow, but by and large, resin production is still not at pre-COVID-19 levels."
Worried consumers
Soaring energy prices and overall inflation are dampening U.S. consumer sentiment. The University of Michigan's Survey of Consumers reported in preliminary results that consumer sentiment in May declined by 9.4% from the previous month, reversing April's gains. Consumers' assessment of their current financial situation relative to a year ago is at its lowest reading since 2013, with 36% of consumers attributing their negative assessment to inflation.
Buying conditions for durables hit its lowest point since the question began appearing on the monthly surveys in 1978, again primarily due to high prices, U of M reported. The median expected year-ahead inflation rate was 5.4%, little changed over the last three months, and up from 4.6% in May 2021.
End market impacts
Plastics find use in virtually every end market, with packaging and building and construction among the biggest volume consumers of resins. Automotive, while less in volume, has an outsize impact on the plastics sector, given that it is often a proving ground for innovative and demanding applications. Plastics are critical to the medical and healthcare industries and offer value-added opportunities for suppliers who can meet the stringent regulations. The same holds true for the electrical and electronics markets, which also are constantly dealing with miniaturization and high-heat management, in addition to aesthetics and durability.
Packaging trends
The pandemic spurred a notable boost in home shopping and e-commerce, to include food and grocery delivery services. This helped to accelerate interest in safe, durable, clear, lightweight and thin-wall plastic packaging options. Plastics fare well when compared with heavier or more fragile solutions, such as glass.
A new Coresight Research survey, published in mid-May, reveals that 54.3% of U.S. consumers bought groceries online in the past 12 months. While a hefty number, it did represent a decline of 4.7% compared to last year. The report –– "US Online Grocery Survey 2022: Assessing Trends in Shopper Behavior, Quick Commerce and Meal Kits" –– also notes a slight dip of 2.6 percentage points in consumers who say they are planning to buy groceries online.
The survey noted that the percentage of online grocery shoppers who collect their own order rather than wait for delivery (42.8%) rose 5.2 percentage points, as consumers try to dodge higher delivery fees and surcharges.
Sustainability continues to command the attention of brands and packaging companies. Packaging World reported in mid-May that, according to recent research by the Packaging Machinery Manufacturers Institute (PMMI), innovation in that sector is not keeping pace with sustainability demands.
Companies remain under massive pressure to improve sustainability by reducing packaging waste, but the study ­­–– PMMI's "2022 Shaping the Future of Packaging Operations" –– says that packaging operators recognize they are somewhat behind the curve in this regard and are aware of the need to catch up. "However," the article notes, "a true industry shift will require technology breakthroughs and significant capital investment. One of the major barriers is that sustainable packaging materials often have narrower tolerances than virgin or highly engineered standard materials."
As a result, the study concludes, "the desire from brands and consumers doesn't quite align with what's currently feasible." While reducing the size of packaging remains an easily achievable objective, instituting industrywide change has always proven more challenging to achieve.
Meanwhile, R&D efforts continue apace to boost the use of recycled content, incorporate more biopolymers, develop reusable packaging models, and create more highly functional monomaterial package structures that help to facilitate recycling.
Building boom continues
The construction sector is an entirely different beast and faces different challenges. Supply-chain disruptions have played havoc with builders. For the past couple of years, the U.S. housing demand has been red-hot, and prices sky-high, with homebuilders struggling to keep pace.
"Despite all of the turbulence reflected in some other sectors, total U.S. construction spending increased by a robust 12% in the first quarter when compared with the same period in 2021," according to Plastics News economics editor Bill Wood. "Total spending for residential projects jumped almost 19%, while spending in the nonresidential segment increased a very respectable 6%."
Wood suggests that higher interest rates are needed to put the brakes on the demand pressure in this market segment and overall inflation in the economy. There are some modest signs of cooling now that U.S. mortgage interest rates, which had been well below 3%, have now risen above 5%.
Speaking more generally, Wood –– a Harvard-educated economist who has tracked plastics for more than 30 years –– said in a May 24 webinar that we're going to be "inundated with bad news at a rapid rate" as the Fed tries to tame inflation without sending the economy into a recession. But he adds there's no reason to panic, and his outlook for the rest of the year is "balanced." Going forward, he suggests, plastics company managers should keep an eye on real estate and construction data, consumer spending and employment data.
Consumer technology in demand
The Consumer Technology Association (CTA), which organizes the huge CES consumer electronics show in Las Vegas each year, projected in January that U.S. consumer technology revenue would increase by 2.8% in 2022. It predicted that the industry's retail sales revenue this year would exceed $505 billion, marking the first time ever it will top the half-trillion-dollar mark. This increase is over and above the 2021's year-on-year growth of 9.6% and reflects a 38% leap from the $365 billion in sales registered in 2017.
CTA reported that some of the fastest-growing products include many "smart" products –– smart appliances, smart light bulbs, smart doorbells, smart speakers and smart TVs, as well as connected products such as sports and fitness equipment. Nearly all of these incorporate plastics in some form or another.
Digital health devices also continue to grow in popularity, to include connected devices that monitor mental and physical health and manage chronic disease, as well as telemedicine and all types of wearables. CTA said its research indicates that 52% of U.S. adults say they are likely or very likely to use health tech in the future to improve their overall well-being.
With more individuals home-bound, perhaps it's not surprising that use of connected exercise equipment grew significantly through the pandemic. The sector generated nearly $3.8 billion in shipment revenues in the U.S. in 2021. And CTA predicts that these types of products will grow by a further 17% this year, reaching nearly $4.5 billion in shipment revenue.
Plastics benefit, as well, of course. Different types of engineering polymers –– from polycarbonate and silicone to ABS, nylon, thermoplastic elastomers and copolyesters –– are important when it comes to enabling most wearables, medical equipment, exercise gear and automotive tech, among other products.
Automotive industry woes
The U.S. vehicle industry has taken a beating, for all the above-noted reasons, compounded by a critical shortage of the semiconductor chips needed in every vehicle. Automakers canceled semiconductor orders in the early stages of the coronavirus pandemic. Then, once the economy began to improve, they struggled to get access to those materials because overseas chip suppliers had already allocated them to consumer electronics manufacturers.
Analysts predict semiconductor inventories may not return to pre-pandemic levels until at least 2023, according to CarsDirect, an American online automotive research portal and car buying service. Many chip suppliers are located abroad, and it hasn't been easy for the U.S. to build more semiconductors domestically. While there are efforts by the government to get this to happen, it will take time.
April's U.S. car sales data provided a modest ray of sunshine, with a 6.6% uptick from the previous month, but April's sales still represented a 17% drop from the strong showing in April 2021, which was one of the last sales months before inventory began to decline significantly and limit the sales pace.
The National Automobile Dealers Association reported that new light-vehicle sales in the United States increased to 14.3 million units on a seasonally adjusted annual rate (SAAR) in April 2022 from March's sales rate of 13.3 million units. Other reports pegged this year's SAAR at closer to 14.7 million units -–– still a far cry from the April 2021's annual rate of 18.6 million units.
"We don't expect that April's month-end inventory level will change much from March's level of 1.23 million units as the industry is still unable to produce enough vehicles to meet current demand, let alone restock dealer lots," NADA said in its recent monthly report. "For the rest of the year, vehicle availability will continue to be the principal limiting factor for new light-vehicle sales. Our forecast for sales in all of 2022 remains unchanged at 15.4 million units," it added. This compares to sales of 17.6 million units in March 2021.
There's no question that electric vehicles (EVs) are growing in popularity and commanding a huge share of automakers' attention and R&D spending. But opinions diverge on how quickly they will be adopted. At the big CES 2022 show in Las Vegas in January, two of the largest automotive suppliers offered their opinions.
ZF Group and Magna International Inc. are the world's third- and fourth-largest auto suppliers, respectively. ZF told Automotive News that it expects EV production by 2030 to account for just under half of all vehicles assembled in North America, with EVs representing 45 percent of global vehicle output by then.
Magna, on the other hand, is less bullish, saying it sees EV sales accounting for only about 20 percent of the global market by 2030, with the U.S. coming in below the global average. Magna Chief Technology Officer Anton Mayer noted that consumer acceptance of EVs might be hindered by each country's charging infrastructure. EVs also require even more computer chips than internal combustion engine (ICE) cars, further exacerbating that shortage.
A people problem
Technology, inflation and supply-chain challenges aside, the U.S. plastics industry (and broader manufacturing sector) has a potentially more intractable problem –– a shortage of skilled workers to keep its plants humming. The pandemic caused many to re-evaluate their lives and careers, leading some to quit their jobs and others to pursue different paths.
In addition to the U.S. having an aging population, it has proven difficult to attract, train and retain talent. Many of the new entrants to the labor market lack skills for, and/or are averse to pursuing a career in manufacturing, notes Pineda.
"In a tight labor market, even economic incentives such as higher wages and benefits are not guarantees of attracting and retaining skilled workers. Increasing skilled labor supply would require serious commitment from the industry to implement an apprenticeship program that's consistent throughout the country and accredited by the U.S. Bureau of Labor. ... Any policy proposals to revive American manufacturing," he asserts, "must include a workforce supply and development component."
K 2022 - the world's most important trade fair for the industry
In 2022, as every three years, K in Düsseldorf will once again be the most important information and business platform for the global plastics and rubber industry. Nowhere is the internationality as high as in Düsseldorf. Exhibitors and visitors from all over the world will come together and take advantage of the opportunities from 19 to 26 October this year not only to demonstrate the industry's capabilities and present innovations, but also to exchange views on the situation of the plastics and rubber industry in the various regions of the world, discuss current trends and jointly set the course for the future.
Source: Messe Duesseldorf