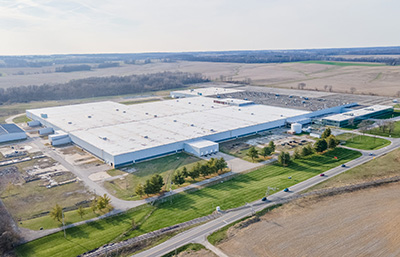 November 8, 2023 – Amcor, a global leader in packaging solutions, today announced a Memorandum of Understanding (MOU) with leading polyethylene producer Nova Chemicals for the purchase of mechanically recycled polyethylene resin (rPE) for use in flexible packaging films. Increasing the use of rPE in flexible packaging applications is an important element of Amcor's commitment to support packaging circularity.
The supply agreement would enable Amcor to purchase Syndigo rPE resin, manufactured at Nova Chemicals' first mechanical recycling facility in Connersville, Indiana, which is projected to be in operation as early as 2025. The recycling facility was announced in July as a significant expansion of Nova Chemicals' Circular Solutions business.
"This is an exciting opportunity for us to supplement our rPE supply in support of our target to achieve 30% recycled material usage across our global portfolio by 2030," said Fred Stephan, president of Amcor Flexibles North America. "Incorporating rPE into flexible packaging films helps brand owners meet voluntary commitments on recycled content targets, reduce greenhouse gas emissions, and keep plastic waste in the economy and out of the environment."
"We are pleased to work with Amcor to bring more film-grade rPE to market and further drive the circular economy," said Greg DeKunder, vice president, Nova Circular Solutions.
Nova Chemicals plans to expand its recycling footprint across North America over the next several years to help reach its industry-leading ambition of 30% share of total PE sales from products containing recycled content.
Amcor offers packaging solutions across a variety of materials for food, beverage, pharmaceutical, medical, home and personal-care, and other products. The company is focused on making packaging that is increasingly lighter weight, recyclable and reusable, and made using an increasing amount of recycled content. In fiscal year 2023, 41,000 Amcor people generated $14.7 billion in annual sales from operations that span 218 locations in 41 countries.
Nova Chemicals aspires to be the leading sustainable polyethylene producer in North America. The company is headquartered in Calgary, Alberta, Canada, and has nearly 2,500 employees worldwide. It is wholly owned by Mubadala Investment Company of the Emirate of Abu Dhabi, United Arab Emirates.
Source: Nova Chemicals