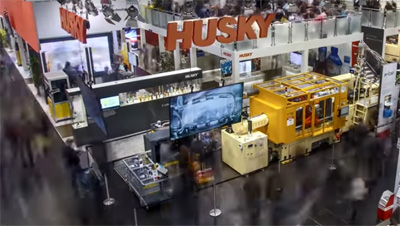 September, 19, 2019 - Husky Injection Molding Systems, a leading industrial technology provider to the plastics processing community, will be back exhibiting at K 2019 in Dusseldorf, Germany from October 16-23, 2019. Husky says it understands that market conditions and consumer demands are constantly evolving and, therefore, is committed to helping its customers find ways to better respond to these changes through the development of digitalized end-to-end manufacturing processes, flexible, scalable molding solutions and more sustainable packaging options.
Husky's booth (A61, Hall 13) will feature solutions for various market needs, focusing on new, innovative technologies that meet the changing global demands of plastic producers. As the market continues to change and demographics shift consumer behavior, there is an increased demand for products that are more diverse, healthy and sustainable, which are better protected and brought to market faster. The most successful producers will understand how to satisfy these shifting consumer preferences in order to remain competitive.
"Consumer trends are dynamic, due to increasing urbanization, health and wellness consciousness, and a new, younger generation of shoppers focused on digital experiences and sustainable choices. Our participation at K2019 is an opportunity to demonstrate our understanding of these market changes, and showcase the novel, innovative technology solutions we have developed to help our customers better meet these needs," said John Galt, Husky's President and CEO. "By working closely with our customers, partners and suppliers around the globe, we are able to develop integrated manufacturing solutions that support our customers' growth initiatives and we look forward to highlighting these developments in Dusseldorf next month."
Experience Innovation
Husky says its booth at K2019 will offer an interactive experience, showcasing the company's latest innovations that push the boundaries of packaging to the next level.
Today's new generation of shoppers is looking for more choice and unique, personalized products, which drives plastic producers to develop more package designs of different sizes, shapes and colors. Husky offers a variety of injection molding solutions based on varying application and production needs and will be debuting its new versatile HyPET5 PET systems portfolio at the show, as well as its flexible, lower cavitation NexPET™ system and mold. For the first time, Husky will also be running its high-productivity HyPET HPP5e system, designed to deliver complete design freedom, energy savings, system reliability, superior preform quality and user friendliness, the company claims. The system will be producing preforms made from 100 percent recycled PET.
An increase in sustainable packaging options is also a global focus, with consumers looking for packages with a lower carbon footprint that contain more recycled and recyclable content. Husky says that its variety of injection molding solutions allow for more post-consumer resin (PCR) in packages, including PET preform molding systems capable of handling recycled content and PCR options for its Multi-Layer Technology. Also, the company explains that it is developing more energy efficient systems, increased lightweighting capabilities and innovative tethered closure designs to meet recycling and packaging legislation.
As the popularity of online shopping and e-commerce has increased, consumers are expecting more products, faster than ever before. Plastics producers are looking for accelerated speed-to-market, while still balancing costs and inventory levels. To satisfy this need, Husky says it has developed its Next Generation Operating Model (NGOM), which is a digitalized end-to-end manufacturing system that offers enhanced capabilities to deliver solutions with speed and flexibility. At the show, Husky will demonstrate how it is developing this digitalized, end-to-end ordering and manufacturing process.
Health and wellness continues to be a global trend, with a large portion of the population aging and focusing on increased vitamin and nutrient content, as well as smaller packages with less sugar content. These types of packages require better protection for sensitive content which, according to Husky, are provided by its Multi-Layer Technology. At K2019, Husky will highlight how its Multi-Layer Technology satisfies various application requirements, including barriers for light, oxygen and carbon dioxide, as well as bottles with exciting new design and functional treatments that dramatically enhance shelf appeal.
Learn more: https://instapage.husky.co/2019-k-show-en
Husky Injection Molding Systems Ltd .is a leading global supplier of injection molding equipment and services to the plastics industry. The company has more than 40 service and sales offices, supporting customers in over 100 countries. Husky's manufacturing facilities are located in Canada, the United States, Luxembourg, Austria, Switzerland, China, India and the Czech Republic.
Source: Husky