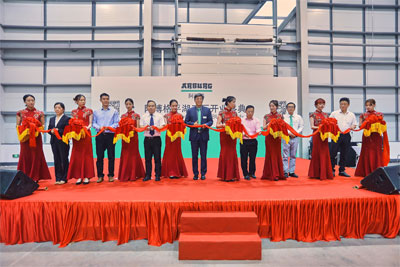 New Arburg Technology Center (ATC): inauguration ceremony and open house
More space: 2,300 square metres for more than 60 injection moulding machines and turnkey systems
Arburg is extending its portfolio for Asia with a fourth location in China
September, 22, 2020 - With a market presence dating back 28 years, Arburg has been investing in China continuously. On 18 September 2020, some 550 invited guests were in attendance for the official inauguration of the Arburg Technology Center (ATC) in Pinghu. 7,700 participants watched the event online. The official opening of the new location followed an open house ceremony featuring speeches and presentations of innovative applications and processes.
"The ATC in Pinghu marks a significant milestone for Arburg's presence in China, where we now have four locations," said Gerhard Boehm, Managing Director Sales at Arburg. Due to the ongoing travel restrictions arising from the coronavirus situation, he gave his address on behalf of the parent company via video message: "By investing in the new location we are demonstrating our unwavering commitment to keeping our market promise even in difficult times. Now more than ever, 'Wir sind da' – for you, our customers."
Expansion of turnkey business
"The ATC in Pinghu will enable us to focus on driving forward our turnkey business in China. Working together with local partners, we will be delivering a wide range of automation solutions and adapting machines to meet customer-specific requirements – even up to complete production cells. The new location and its excellent facilities equip us to do this in the best way possible," added Zhao Tong, Managing Director of Arburg in China. "We are also expanding our warehousing capacities in order to significantly reduce delivery times."
The new facilities provide more than 2,300 square metres to accommodate in excess of 60 "Made in Germany" Allrounders manufactured exclusively at company headquarters in Lossburg. Providing a base for machine specification and automation, the ATC in Pinghu also offers facilities for customers to have their injection moulds tested and attend training courses. The training provision will deliver comprehensive process and application technology support and consulting services drawn from decades of know-how obtained in the fields of plastics processing, automation and digitalisation.
Arburg presence in China at four locations
The subsidiary in Shanghai has been Arburg's central location in China since 2004. It is from here that all sales activities across the country are coordinated. A machine warehouse opened nearby in 2013, followed by an ATC in Shenzhen in 2006. Thanks to close cooperation with the team in Shanghai, Arburg is able to offer its customers pre-sales and after-sales service, the scope of which is expanding all the time. Expansion into China started back in 1992, when the company's first subsidiary opened in Hong Kong. To ensure fast availability to the customer, service technicians and sales experts are also deployed on a decentralised basis along the entire "plastic belt" along the Pacific coast, as well as in the centre of the country in Chengdu.
Open house and official inauguration ceremony
The official inauguration ceremony on 18 September 2020 at the ATC in Pinghu started with an open house featuring an innovation summit. Invited guest had the opportunity to be in touch with the facilities, the six machines in production and the seminars addressing trends and innovations in plastics processing. Among the highlights were two new innovations that should have been premiered at Chinaplas 2020: the arburgXworld customer portal and an LSR version of an Allrounder from the Golden Electric series designed specifically for processing liquid silicone rubber. Other presentations included the innovative fibre direct compounding process (FDC) for lightweight construction, challenging automated applications for packaging technology and medical technology and Arburg Plastic Freeforming (APF) for industrial additive manufacturing with the Freeformer. Arburg also showcased its digitalisation and service expertise by giving guests a full introduction to the customer portal, the host computer system and after-sales activities. After the open house, Zhao Tong cut the ribbon to officially open the site in the presence of government officials. The ceremony closed with a traditional lion dance to drive away evil spirits from the site.
Source: Arburg