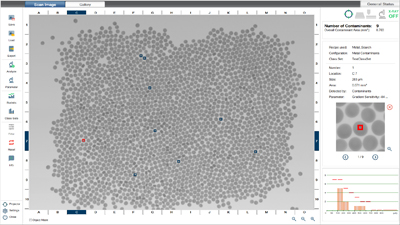 Technical article by Rebecca Zachau, Corporate Communications Sikora AG
Introduction
October, 22, 2019 - Even smallest metallic contamination in plastic pellets can cause significant problems during the production and processing of plastics. Whether the pellets will be used for the production of injection molded parts, cables, films or profiles – fault prevention almost always means a major effort and even more, when fault correction becomes necessary. The dismantling of injection molding tools, the exchange of hot runner systems and the reworking of cavities is time consuming as well as expensive.
The reasons for metal contamination in raw material are manifold: During production, for instance, an abrasion of the metal screws in the extruder and of the barrel occurs, or of other machine parts that come in contact with the product. Abrasion can also occur at conveyer pipes and pipe bends; this is enhanced by abrasive material. Furthermore, metal contamination can get into the pellets due to damaged melt filters or a defective granulator. Neither with melt filters nor with inductive metal separators or permanent magnets, a full protection against metal contamination can be ensured. Therefore, for example, high voltage cables have to be coated with a 100 % metal free plastic insulator. Otherwise, the costs to recover and repair a submarine cable after a breakdown (short circuit) due to metal contamination can amount to a mid-seven-figure sum. Also the dismantling of bigger injection molding tools with several damaged cavities and/or a blocked hot runner distribution system can be costly.
The above points show that only with absolute pure raw material a highest possible quality of the final product can be guaranteed. In this respect, a continuous quality control in the production process is essential. Thus, plastic producers and processors specifically inspect and monitor single batches or complete product lines depending on the field of application of the polymers. In addition to the application of online inspection and sorting systems during production, random samples are also regularly inspected. Sikora AG has developed a special offline inspection system that detects and analyzes contamination from 50 µm in plastic pellets.
Measuring principle of the X-ray based offline inspection and analysis system
With the support of X-ray technology, a non-destructive look into and through plastic pellets is possible. Furthermore, it can differentiate between miscellaneous materials, such as pellets and metal particles, as they vary in their absorption or attenuation of X-rays. Consequently, even the smallest metal inclusions in the raw material can be detected with the X-ray based inspection and analysis system. Since the X-ray unit is hermetically sealed, no radiation can escape and the standards of the Radiation Protection Act and Radiation Protection Ordinance are fulfilled. Therefore, the system can be used by the operator without any concern.
The system is characterized by its intuitive handling. The operator places the material onto a sample tray, where it is being moved through the inspection area, which features an X-ray camera. The inspection and analysis are carried out within 30 seconds. A projector highlights contaminated material in color directly on the sample tray. Simultaneously, the contamination is visualized and highlighted on the monitor including information about its size and area (picture). This allows for a clear allocation of the contamination and facilitates the removal, for example, for further inspections in a laboratory. Due to the analysis of the X-ray images, metallic contamination from a size of 50 µm on the surface as well as within non-transparent, colored and transparent plastic pellets are automatically detected, visualized and evaluated. Contaminated pellets can be selected on the monitor and zoomed in.
Data analysis and data recording
With the specially developed analysis software, contaminants are detected, visualized and evaluated on the monitor as well as on the sample tray. In addition to an image gallery of detected contamination, the software provides statistics about their size, area and number. Previously recorded image material can be re-imported and evaluated any number of times, for example, with divergent analysis parameters. In addition to single inspections, serial tests can also be realized with the system. Hence, any number of samples from a batch can be taken at different times and scanned for analysis. The measuring values are included in the overall evaluation. The collected data provides the users with valuable information about the process and the material quality of the plastic pellets. Furthermore, the system supplies a test certificate containing information about the quality of the inspected pellets as well as a summary of the test results, creating the prerequisite for material approval and delivery to the customer. Via LAN interface, the inspection and analysis system can be connected with the company network and collected data can be exported for processing. Furthermore, the creation of a central and continuously up-to-date data bank allows for conclusions on sources and causes of contamination. Consequently, existing processes within the company or at suppliers can be optimized and product quality can be guaranteed.
Scope of application
The described system is a mobile offline inspection system on wheels, which is used for sampling inspection outside of the production process ("offline") in a laboratory environment or alternatively directly next to the production line. It offers a variety of applications. In addition to traditional production control, the system is also suitable for incoming goods inspection due to the fast analyzing procedure of 30 seconds. Furthermore, the device can be used for quality control. After a positive inspection, which is recorded by the test certificate, the material can be released. In case of a complaint, the system can also be used for a follow-up inspection of the objected material.
On the sample tray with a size of 210 x 300 mm, it is possible to inspect pellets, flakes, films/tapes, sheets and injection molded parts made from various plastics, such as XLPE that is used for the insulation of high voltage cables, TPU or TPE. The height of the test material can be up to 50 mm. 100 g of plastic pellets can be inspected and analyzed per run. With a pellet size of 4 x 4 x 4 mm, this corresponds to up to 3,500 pellets.
Conclusion
The plastics industry is characterized by very high quality requirements and strict standards concerning material and products. In order to meet these requirements, a regular offline sample inspection is necessary alongside a continuous monitoring during production by online inspection and sorting devices. Metallic impurities are especially challenging for plastic producers because they do not only compromise the purity of the end product but also its functionality, and finally a safe application. The system developed by Sikora AG combines X-ray technology with an automatic offline inspection and analysis. The laboratory testing device automatically detects and visualizes metallic contamination from 50 µm in plastic pellets and statistically analyzes them. A clear allocation of the contamination and follow-up inspection are possible at any time. A reproducible offline inspection and analysis of plastic pellets leads to fault analysis and provides key findings about the causes of impurities and the own production processes. Only flawless plastics are being distributed and machine downtimes as well as reclamation costs are being reduced. Therefore, the system significantly contributes to quality and process optimization.
Sikora AG was founded in 1973 and is today a leading global manufacturer and supplier of measuring and control technology for the wire and cable, hose and tube, sheets as well as optical fiber, metals and plastics industries. With around 300 employees worldwide, 14 international offices and more than 30 regional representatives, the company provides customers with innovative product solutions and individual service. The measuring and control systems are exclusively made at the headquarters in Bremen/Germany. .