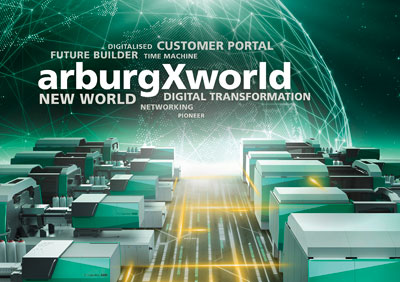 "arburgXworld": New digital products and services
"arburgGREENworld": Circular economy and efficient use of resources
Trends in injection moulding: New machines, features and solutions for "smart" plastics processing
18/7/2019 - Arburg's presence at the leading international trade fair K 2019 from 16 to 23 October 2019 in Düsseldorf, Germany, will focus on the topics of digitalisation and circular economy. With "arburgXworld" and "arburgGREENworld", Arburg (www.arburg.com) wants to provide answers to important and pressing questions for the world of plastics processing and use – a world which includes an increasing number of perspectives. The primary goal is to conserve resources and thereby make a significant contribution to production efficiency. In hall 13, stand A13, trade visitors can experience how Arburg has been a pioneer in dealing with important future issues, providing answers to current questions and offering practical solutions. A number of new machines, processes and digital products and services are contributing to this.
"As the world's leading trade fair in its industry, the K trade fair is the most important platform for presenting important visions and innovations. Every three years, the world of plastics looks to Düsseldorf to see where the journey is headed in the future," says Michael Hehl, Managing Partner and spokesman for the Arburg Management Board, underlining the value of K for the Black-Forest based company. "Our one world is becoming ever more complex and richer in perspectives, so that our challenges are growing accordingly." Ultimately, it is always a question of meaningfully exploiting the potential of plastics as an important resource, of efficient production and of conserving resources. Arburg intends to demonstrate what this can look like in practice.
In focus: Digitalisation and circular economy - "We are dealing with the two truly prominent issues of our time: digitalisation and the sensible use and recycling of plastics," Juliane Hehl, Managing Partner responsible for marketing and technology, emphasizes the duality of this approach. "We are showcasing very important progress in terms of digitalisation. In this context, the idea of 'arburgXworld' stands for much more than our customer portal of the same name." New to the digital product and service portfolio are, for example, the filling assistant and the plasticising assistant, as well as extended connectivity for the Allrounders. In addition, there are further apps and functionalities for the customer portal. "We very much welcome the fact that the circular economy is such an important topic at K 2019," adds Juliane Hehl, stating how environmental protection and the conservation of resources are deeply rooted in the company's philosophy. "In Düsseldorf we will be able to present our 'arburgGREENworld' more extensively to experts for the first time and demonstrate practical solutions by means of various examples, which have also been discussed at the international Arburg Packaging Summit in June 2019".
Immersion in the digital world of Arburg - Stand "13A13" at K 2019 offers more digital Arburg world than ever before. At ten interactive stations along the "Road to Digitalisation", visitors are able to learn more about "smart machines", "smart production" and "smart services". This include, for example, the new "Plasticising Assistant" for material processing and predictive maintenance at the screw, and the control system simulator. Arburg's six proven assistance packages, the Arburg host computer system (ALS), the Arburg Turnkey Control Module (ATCM) and the Arburg Remote Service (ARS) will also be presented at K 2019. All injection moulding exhibits are provided with so-called "Basis Connectivity", i.e., they have an IIoT-Gateway and can be interconnected with the higher-ranking ARS und "arburgXworld" customer portal systems easily and standardised using interfaces.
New apps in the "arburgXworld" customer portal - The "arburgXworld" customer portal has been available to customers in Germany since March 2019. In addition to free functions such as the main "Machine Center", "Service Center", "Shop" and "Calendar" apps, there will be additional fee-based functions offering considerable added value starting at K 2019. New features are, for example, the "Self Service", the dashboard for the machine status, the control system simulator, the collection of process data and the machine design. In addition, the customer portal will be available internationally in 18 languages as of the trade fair.
"Smart" Allrounder knows the component to be produced - On an Allrounder 570 A with a clamping force of 2,000 kN and Gestica control system, Arburg will demonstrate a particularly "smart" application. The new filling assistant is integrated into the control system, meaning that the Allrounder "knows" the moulded part it is to produce – in this case a pair of Uvex goggles made of PA12. Arburg developed the filling assistant together with its Aachen-based partner Simcon. It was first presented on an active Allrounder at the Technology Days 2019, but the application at K 2019 takes it one step further: The simulation model created offline and the geometry are read directly into the control system. At the Gestica control system, the degree of part filling, relative to the current screw position, is animated in real time as a 3D graphic. In co-operation with Simcon, the functionality of the filling assistant has been extended, in order to cover a larger mould and material spectrum. The machine operator can compare the results of the simulation created offline with the filling performance of the last cycle interactively on the Gestica monitor. This results in benefits with regard to set-up time, safety and efficiency, Arburg says The electric Allrounder 570 A is integrated into a turnkey system. It is used to injection-mould sophisticated goggles in a cycle time of around 45 seconds. Pick-up and transfer for optical inspection, laser marking and packaging is handled by a six-axis robot. In addition, the production cell is equipped with the Arburg Turnkey Control Module (ATCM) SCADA system, which enables 100% traceability of the parts, Arburg claims.
Circular economy in practice - Arburg will be presenting two applications on this topic at K 2019. Around 30 percent recycled material is used in the production of PP cups. For this practical example of a closed circular economy, Arburg cooperates with Erema (hall 9, stand 05), which provides recycled PP. In a cycle time of around four seconds, eight cups are produced on a hybrid Allrounder 1020 H. This new size machine in the company's portfolio will be presented as a packaging version. The exhibit has a distance between tie bars of 1,020 millimetres, a clamping force of 6,000 kN and features a new size 7000 injection unit. This is also available for the Allrounder 1120 H machines and offers a maximum shot weight of around 4,200 grams polystyrene.
In the second circular economy application, a PCR material (post-consumer recyclate) derived from household waste is used to produce a technical product. The PCR available on the market is processed by an electrical two-component Allrounder 630 A in a Profoam foaming process, the second material is TPE. The injection-moulded part is a machine door handle whose two halves are mounted in the mould. This is followed by partial overmoulding with the soft component. The application illustrates a way to reintroduce PCR material into the cycle to produce high-quality, durable functional parts.
Launch: arburgGREENworld - These applications demonstrate Arburg's expertise in terms of circular economy and the conservation of resources. Numerous activities – both for customers as well as internally – have been bundled in the new "arburgGREENworld" programme, which rests on four pillars. The first three pillars – "Green Machine", "Green Production" and "Green Services" – relate to offers for customers while the fourth pillar – "Green Environment" – includes Arburg's internal processes.
Innovative applications and processes - An electric Allrounder 470 A with a clamping force of 1,000 kN demonstrates how functional in-mould products can be produced using IMSE technology (Injection Moulded Structured Electronics). In this process, films with integrated electronic functions are inserted into the mould and overmoulded with PC. As a demonstrator, the injection moulding machine produces a night light in a cycle time of around 75 seconds.
An electric Allrounder 270 A, equipped with a size 5 micro-injection unit with 8-millimeter screw, 8-cavity mould and LSR cartridge, will be manufacturing microswitches from non-post curing LSR. The part weight is a mere 0.009 grams, the cycle time around 20 seconds. The moulded parts are picked up by a Multilift 3+1, optically inspected in the gripper, separated according to cavity and finally packed in paper bags. Such microcomponents are used in the automotive and medical technology sectors.
Overmoulding of hybrid components is demonstrated by a vertical Allrounder 375 V with 500 kN of clamping force, which features compact automation in the form of a Multilift Select robotic system mounted on the machine base. The inserts are provided as a roll and the contacts are overmoulded to form hybrid connectors in a cycle time of around 15 seconds.
In addition, a new Freeformer will give a technological outlook on how fibre-reinforced components can in future be produced using Arburg Plastic Freeforming (APF).
20 Arburg machines at K 2019 - A total of eight Allrounders and one Freeformer will be demonstrating new machine technology as well as innovative applications and processes on the Arburg stand. Another eleven machines can be seen on partner stands. 20 Arburg exhibits at K 2019 will therefore cover a wide range of processes, including thin-wall injection moulding, hybrid technology, in-mould labelling and film technology, multi-component injection moulding, micro injection moulding, Profoam foaming technology, cube technology and the processing of LSR, magnetic plastics, bioplastics and recyclates. The applications cover all important industries and trend topics: automotive and e-mobility, electronics, lightweight construction, medical technology and packaging. "And that is not all," promises Juliane Hehl. "Last but not least, we will be playing another trump card in Düsseldorf and are inviting trade visitors to come and see the new machines, processes and applications for themselves on our stand".
The German family-owned company Arburg is one of the world's leading manufacturers of plastic processing machines. The product portfolio encompasses Allrounder injection moulding machines with clamping forces of between 125 and 6,500 kN, the Freeformer for industrial additive manufacturing and robotic systems, customer- and industry-specific turnkey solutions and further peripheral equipment. Digital services are combined in the "arburgXworld" customer portal. Aspects and activities of environmental protection and the conservation of resources are brought together in "arburgGREENworld". The target markets for Arburg include, for example, the automotive and packaging industries, communication and entertainment electronics, medical technology and the white goods sector. Arburg has its own organisations at 34 locations in 26 different countries; together with its trading partners, it is present in more than 100 countries. Its machines are produced exclusively at the parent company in Lossburg, Germany. Of a total of roughly 3,000 employees, around 2,500 work in Germany. About 500 further employees work in Arburg's organisations around the world. Arburg has triple certification according to ISO 9001 (quality), ISO 14001 (environment) and ISO 50001 (energy).
Source: Arburg