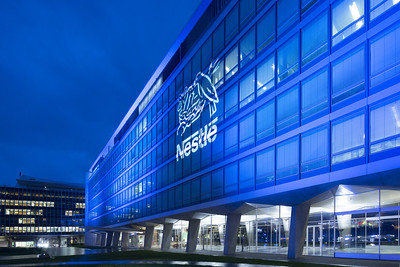 January 16, 2020 - Nestlé today announced that it will invest up to CHF 2 billion to lead the shift from virgin plastics to food-grade recycled plastics and to accelerate the development of innovative sustainable packaging solutions.
Building on its 2018 pledge to make 100% of its packaging recyclable or reusable by 2025, Nestlé says it will reduce its use of virgin plastics by one third in the same period whilst working with others to advance the circular economy and endeavor to clean up plastic waste from oceans, lakes and rivers. That means roughly 500,000 tonnes a year of virgin plastics reduction, according to Sander Defruyt, head of the Ellen MacArthur plastics project.
Food quality and safety are paramount, and packaging plays a major role in assuring this. Most plastics are difficult to recycle for food packaging, leading to a limited supply of food-grade recycled plastics. To create a market, Nestlé made a pledge to source up to 2 million metric tons of food-grade recycled plastics and allocate more than CHF 1.5 billion to pay a premium for these materials between now and 2025. Nestlé says it will seek operational efficiencies to keep this initiative earnings neutral.
Packaging innovation, including new materials, refill systems and recycling solutions, is another key challenge on the path towards a waste-free future. In addition to its significant inhouse research through the Nestlé Institute of Packaging Sciences, the company will launch a CHF 250 million sustainable packaging venture fund to invest in start-up companies that focus on these areas.
These two initiatives come in addition to Nestlé's major ongoing efforts in research, sourcing and manufacturing to make its packaging recyclable or reusable and contribute to its goal to achieve zero net greenhouse gas emissions by 2050. Nestlé says it will continue to outline further initiatives and provide regular progress updates.
"No plastic should end up in landfill or as litter," said Mark Schneider, CEO of Nestlé. "Making recycled plastics safe for food is an enormous challenge for our industry. That is why in addition to minimizing plastics use and collecting waste, we want to close the loop and make more plastics infinitely recyclable. We are taking bold steps to create a wider market for food-grade recycled plastics and boost innovation in the packaging industry. We welcome others to join us on this journey."
"We are pleased to see Nestlé commit a CHF 2 billion investment toward creating a circular economy for plastics, alongside a reduction of its use of virgin plastic in packaging by one third by 2025. By eliminating the plastics we don't need, innovating in areas like reuse models and new materials, and circulating the plastics we do need — also in more challenging food grade applications — we can create an economy where plastic never becomes waste. Achieving the commitments announced today will significantly contribute towards realizing this vision," said Andrew Morlet, CEO, Ellen MacArthur Foundation.
In an article on Financial Times, columnist Leila Abboud says that Nestlé's and other packaging giants' moves "are a sign of how looming regulations and consumer concerns about ocean pollution and climate change are prompting makers of food, drink and other consumer staples to change their practices. But experts and industry executives warn that change will be slow and costly, given that companies from different sectors from waste processing to petrochemicals need to work together, and recycling systems remain patchy globally".
"The world's largest consumer groups are still using little recycled plastic in their packaging, and are very far from meeting their own green targets. Nestlé is one of the laggards; it used only 2 per cent recycled plastic in its 1.7m tonnes of plastic packaging last year. Meanwhile, Unilever is at "less than 1 per cent", and Mars is not using any recycled material at all. Coca-Cola is the furthest along, but still managed only to use 9 per cent recycled content in the 3m tonnes of plastic packaging it churns out a year", complements Abboud.
Source: Nestlé / Financial Times