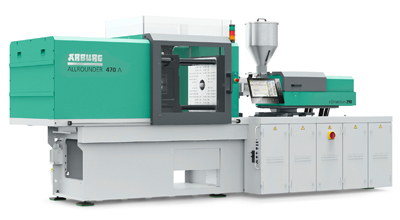 Turnkey: Electric Allrounder turnkey system 470 A manufactures medical technology product

arburgXworld: New customer portal available internationally

LSR processing: Complex partner applications
January, 19, 2020 - Electric high-end technology, automation and digitalization: These will be the key topics presented by Arburg at Plastec West 2020 in Anaheim, California/USA, from 11 to 13 February 2020. At the Arburg booth 3928, an electric Allrounder 470 A with a Multilift Select Cartesian robot will demonstrate efficient production of precision parts for medical technology. Visitors will also be able to experience the new "arburgXworld" customer portal. Another two electrical Alldrive machines with LSR applications will be on show at partner booths.
"Our customers in the U.S. are very interested in electric machines and automation solutions. And our digital products and services are also becoming more and more important," says Friedrich Kanz, Managing Director of Arburg Inc. "With fully automated production of pump heads, we will be able to demonstrate our expertise in turnkey solutions at Plastec West. Visitors will also have the option to experience the 'arburgXworld' customer portal live at the trade fair. Anybody interested in LSR processing with Allrounder machines will be able to view complex applications at the booths of our partners Elkem and M.R. Mold & Engineering."
Alldrive Allrounders manufacture precision parts
An Allrounder 470 A (photo) will demonstrate the performance of its electric Alldrive series. The exhibit has a clamping force of 1000 kN (110 US-tons) and is equipped with an 8-cavity mould. With a cycle time of around 25 seconds, the machine produces pump heads with a weight of 1.0 grams, which are used in medical technology, for example. Demoulding of the inner core of the complex component occurs via an ejector system with stripper plate, while the side cores are demoulded when opening the mould. The Multilift Select robotic system removes the moulded parts and transfers them to a tube system that provides them separately for each cavity.
The electric Allrounder 370 A at the booth of M.R. Mold & Engineering will also feature an automated system. A Multilift Select robotic system inserts thermoplastic discs in the mould, which are extrusion coated with LSR in a cycle time of around 60 seconds. The Multilift then removes the finished multi-component discs and sets them down onto a conveyor belt.
Elkem will also present another LSR application: An electric Allrounder 370 A with 4-cavity mould produces baby comforters made of LSR in various Shore hardnesses in a cycle time of around 30 seconds.
Customer portal, "arburgXworld
The new customer portal "arburgXworld" is available internationally in 18 languages since October 2019. At Plastec West 2020, experts from Arburg will present the portal to interested visitors and show numerous functions. The basic version of the portal includes four free apps – Machine Center, Service Center, Shop and Calendar. In addition, there are paid apps that offer considerable added value to users, Arburg claims. These include, for example, Self Service for interactive support in the event of a machine malfunction or standstill, Virtual Control for simulating machine control, and the Configuration app that customers can use to configure and order the new 270 S compact Allrounder online. Arburg summarizes the entire spectrum of digital products and services, which also includes numerous assistance functions, in its "arburgXworld" program.
Arburg USA – turnkey expertise and comprehensive consulting
The Arburg USA team currently has about 100 employees at three Technology Center: Rocky Hill (Connecticut), Elgin (Illinois) and Irvine (California). Half of them are active in after sales, including field service, customer hotline and spare parts business. Around 15 employees advise customers in the fields of application technology, automation and turnkey solutions. The rest of the team are responsible for sales, additionally supported by external sales representatives.
The showrooms at the three locations are equipped with numerous Allrounder machines used for training and for trials with customer moulds. In addition, at the headquarters in Rocky Hill, the company configures Allrounder machines according to customer specifications, as well as turnkey systems. For these tasks and to meet high demand, the area of the US headquarters is currently being almost doubled.
The German family-owned company Arburg is one of the world's leading manufacturers of plastic processing machines. The product portfolio encompasses Allrounder injection moulding machines with clamping forces of between 125 and 6,500 kN, the Freeformer for industrial additive manufacturing, plus robotic systems, customer and industry-specific turnkey solutions, and further peripheral equipment. The company's target groups include the automotive and packaging industries, communication and entertainment electronics, medical technology, and the white goods sector. Arburg has its own organisations at 34 locations in 26 different countries and, together with its trading partners, is present in more than 100 countries.
Source: Arburg