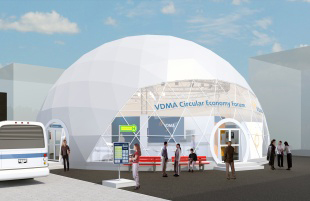 Exciting Lectures, Discussions and Showcases - all about the Circular Economy
September, 17, 2019 - Plastics are valuable – also as waste! In the plastics industry, the concept of the circular economy is discussed as a promising path into the future. But what does circularity for plastics actually mean? Which steps are decisive? Who are the partners involved? At the VDMA Circular Economy Forum at K 2019, The World's No. 1 Trade Fair for Plastics and Rubber, the VDMA will discuss "Design for Recycling" or the prerequisites for good plastics recycling with its guests. At the VDMA pavilion specifically set up for the Circular Economy Forum right in front of Hall 16 on the outdoor premises, a closer look will be taken at the processing of recyclates and the correlations between markets, quantities and legal frameworks will be flagged up. Using packaging as an example, the benefits of plastic products during their lifecycle will be made clear at the VDMA Pavilion, but the arguments speaking in favour of the "not pre-packed" model will also be discussed. Successful closed loops that have become established as a business model will be presented and students will be invited to the "Fridays for future". Encompassing talks, presentations and workshops on the circular economy, the programme gets to the heart of the matter. A gallery with over twenty exhibitors such as Arburg, Engel, Erema, KraussMaffei and Reifenhäuser but also such household names as Procter & Gamble round off the VDMA presence at K 2019.
Renowned Speakers from Industry, Politics and Retail
The programme of the VDMA Circular Economy Forum features high-calibre and versatile speakers on all trade fair days. The kick-off talk on 16 October alone promises exciting discussions and insights from various perspectives. Participants include:
Daniel Calleja Crespo, Director General of DG Environment at the European Commission
Thomas Kyriakis, board member at Schwarz Zentrale Dienste KG, responsible for the circular economy, among other things. The Schwarz group is Germany's biggest retail company (Lidl and Kaufland).
Dietmar Böhm, Managing Director responsible for the operative business of PreZero AG (Schwarz Group), a leading environmental service provider with more than 80 locations in Germany.
Ulrich Reifenhäuser; SEO, Reifenhäuser Group and Chairman of the Advisory Board of K 2019
In the afternoon of the same day representatives from Nestlé, Krones and Ineos will be available for questions at presentations and interviews.
The VDMA Circular Economy Forum agenda on each day of K 2019:
16/10/2019: Change Now! Get Ready for Circularity – Introduction
17/10/2019: Boon or Bane of Plastics Packaging
18/10/2019: Circular Economy – a Global Challenge
19/10/2019: Plastics Recycling – from Small Scales to Big Output
20/10/2019: Recyclates in Products – Availability and Acceptance
21/10/2019: Plastic Waste – Waste Management – Waste Export –
Marine Litter
22/10/2019: Plastics Industry – Where to… and More!
23.10.2019: Circular Economy – Conclusions at K 2019
For more information on the VDMA's Circular Economy Forum go to plastics.vdma.org.
Source: Messe Düsseldorf