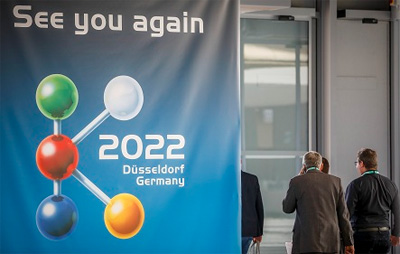 February, 9, 2021 - The registration documents for K 2022, the world's most relevant trade fair for the plastics and rubber industry, will be available at www.k-online.com. The deadline for registration for all the companies wishing to participate in K 2022 is 31 May 2021.
The ranges on show at K 2022 include the segments machinery and equipment, raw materials and auxiliaries as well as semi-finished products, technical components and reinforced plastic products. "K in Düsseldorf is not only the performance barometer for the industry and its global marketplace for innovations, but also provides orientation, sustainable economic impetus and forward-looking trends as well as concrete approaches to solutions," says Erhard Wienkamp, Managing Director at Messe Düsseldorf. October 2022 will be the perfect timing for the No. 1 trade fair because the effects of the global pandemic have also hit many enterprises from the plastics and rubber sector as well as their customer industries. Therefore, there will be an enormous demand for personal exchange and re-orientation on a global scale in the international plastics and rubber industry.
K in Düsseldorf also always addresses the current challenges of our day and age and specifically of the industry. This is why such subjects as sustainability, resource savings, circular economy and digitalisation, which gathered momentum at K 2019, will also feature among the "hot tickets" of the trade fair at both the exhibitors' stands and side events. Worth a special mention here is the Special Show entitled "Plastics shape the future" as well as the Science Campus as a forum for science and research.
The registration documents for K 2022 can be downloaded from: www.k-online.com/2330
Companies that already exhibited in 2019 can log in and register using their known log-in data. Exhibitors taking part for the first time will be walked through the registration procedure step by step. For personal advice the team in Düsseldorf and 77 foreign representations and subsidiaries are available.
Source: Messe Dusseldorf