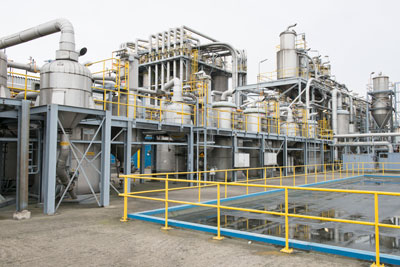 SABIC launches polycarbonate based on certified renewable feedstock

Solution has the potential to reduce CO2 emissions and the use of fossil feedstock during production

Customers can use this polycarbonate resin on their existing equipment, under identical process conditions
SABIC, a global leader in the chemical industry, announced the launch of its polycarbonate (PC) based on certified renewable feedstock. SABIC says it is a first in the industry, providing the company and its direct and ultimate customers with a solution that has the potential to reduce both CO2 emissions and the use of fossil feedstock during production.
"SABIC's market-leading move into the arena of polycarbonate based on certified renewable feedstock – part of our Trucircle initiative of circular solutions, is linked to the commitments of our customers, who increasingly require sustainable solutions in response to both consumer and regulatory demands", said Abdulrahman Al-Fageeh, Executive Vice President Petrochemicals, SABIC. "This major milestone in SABIC's strategic sustainability pathway now extends our offering beyond polyolefins, where we already have our existing certified circular and certified renewable portfolios", he added.
SABIC says that its PC cradle-to-gate LCA study* reveals potentially significant reductions in carbon footprint (up to 50%) and fossil depletion impacts (up to 35%) for the production of polycarbonate resin based on the incorporation of renewable feedstock, in comparison to fossil-based polycarbonate production.
Customers can use the polycarbonate resins that are based on certified, renewable feedstock on their existing equipment, under identical process conditions. Thus potentially contributing to a reduction of the carbon footprint of their products.
"At SABIC we have engaged our value chain and unique position in Europe to produce polycarbonate using second generation renewable feedstocks that are not in competition with the food chain, to make a resin with equal performance to that produced from fossil naphtha," said Lennard Markestein, Director ETP BU Petrochemicals, SABIC.
SABIC worked closely with The International Sustainability and Carbon Certification (ISCC) to provide proof of the incorporation of renewable feedstock in its PC production and the resulting sustainability claims, verified by independent third party auditors.
In addition, CEPSA – the Spanish multinational oil and gas company – is a strategic value chain partner in this project, supporting SABIC through the production of renewable intermediates.
The process utilizes a mix of Fossil-based feedstock and Renewable Feedstock (**) to feed SABIC´s Steam Cracker, where Benzene is obtained. Through an additional reaction in a third-party chemical plant, Phenol is produced from Benzene and afterwards converted into BPA at SABIC´s monomer plant. The next step in the production chain is a condensation polymerization reaction to generate Polycarbonate (Lexan resin), where BPA is one of the reactants. After its production, Polycarbonate resin can then be sent into a compounding plant to manufacture Polycarbonate compounds that will be used by SABIC's customers for their conversion into finished goods.
SABIC's polycarbonate based on ISCC PLUS certified feedstock will be produced initially at its manufacturing facilities in Bergen op Zoom, The Netherlands, with global availability in the future. The certified PC resin may be used for applications in all market segments, such as Automotive, Consumer, Electronics and Electrical, Building & Construction and Healthcare, currently served by existing PC portfolio.
* SABIC has completed a detailed LCA study that is currently in the process of third party ISO Critical Review. However, the study has passed SABIC Internal review that relies on SABIC protocols for LCA quality control. As is typically the case with the use of bio-based feedstock, the LCA study results show environmental trade-offs with respect to eutrophication and water consumption. These environmental impacts may be mitigated through sustainable management practices in the upstream value chain.
** Only a part of the feedstock used in polycarbonate production is from renewable feedstock. The LCA study has assessed the environmental performance of the renewable route in comparison to the fossil-based route at "Cradle to Gate" as well as "Cradle to Gate + End of Life" scope levels and relies on PAS 2050 methodology for biogenic carbon accounting.
Source: SABIC