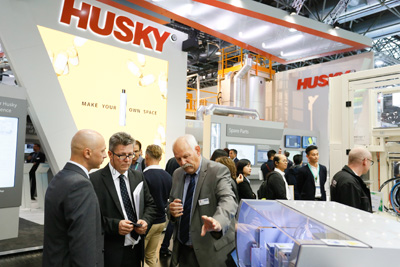 October 20, 2019 – Husky Injection Molding Systems, a leading industrial technology provider to the plastics processing community, has assured its commitment to sustainable packaging solutions, with sustainable packaging being a highlight of its booth at K2019 in Dusseldorf, Germany. With the company's history of being a socially responsible, environmentally-conscious global player, Husky is dedicated to making a positive impact in aligning the goals of sustainability with the many positive attributes of plastic packaging.
An increase in sustainable packaging options is a global focus, with consumers looking for packages with a lower carbon footprint that contain more recycled and recyclable content. Husky says that its variety of system solutions allow for more post-consumer resin (PCR) in packages, including PET preform molding systems capable of handling 100% recycled content and PCR options for its Multi-Layer Technology. Also, the company says it is developing more energy efficient systems, increased lightweighting capabilities and innovative tethered closure designs to meet recycling and packaging legislation. Husky is currently developing a new system focused on incorporating PCR, enabling customers to bring more than 60,000,000 kg of PET annually into the circular economy within the next 24 months, the company claims. The system works in conjunction with equipment that purifies recycled material and eliminates intermediate steps of pelletizing and re-melting, reducing costs while ensuring package quality.
"At Husky, innovation is in our DNA. Enabling more recycled content in packaging, researching innovative and sustainable materials, finding more efficient production methods, reducing waste in the injection molding process; these are all factors that impact our customers as they look for ways to be more sustainable," said Joachim Niewels, Husky's Vice President of Innovation and Sustainability.
As part of Husky's commitment to the environment and to help enable the sustainability goals of its customers, the company has also signed the New Plastics Economy Global Commitment from the Ellen MacArthur Foundation. The Global Commitment brings together brands, businesses and governments around the world to tackle the issues of plastics and the circular economy.
New, flexible, versatile PET preform molding solutions
Husky also introduced a variety of new PET preform molding solutions during K2019.
"The global market is rapidly changing. It is vital that our technology, products and services evolve to reflect the market and meet our customers' continuously changing manufacturing, application and production output needs," said Robert Domodossola, Husky's President of Rigid Packaging. "Our new PET preform molding technologies offer an extensive range of solutions to help our customers achieve the utmost flexibility, user friendliness, energy efficiency and productivity in their manufacturing operations."
HyPET5e platform
At K2019, Husky made a debut of its new HyPET5e systems platform. Building upon the company's technology, the new platform is the foundation for a versatile family of PET preform molding solutions capable of handling diverse output and performance needs, Husky says.. The HyPET5e platform includes:
HyPET5e – Husky's core system is built upon the company's energy efficient platform. The company says that the system offers a versatile solution for standard preform designs and is upgradeable to address different business needs.
HyPET5e+ – An evolution of the core platform, HyPET5e+ includes an upgraded options package to accommodate higher performance and production needs.
HyPET HPP5e – Launched in April 2019, HyPET HPP5e is Husky's highest production system that delivers the industry's ultimate preform molding solution, the company claims. Husky ran a fully integrated HyPET HPP5e system on its booth. The system was processing 100 percent post-consumer recycled resin, producing a 12.1 gram preform on a 96-cavity mold and running a 6.2 second cycle time.
NexPET
Also debuting at K2019 was NexPET, Husky's lower cavitation system and mold for the middle output and multiple package market. Husky says that NexPET enables the highest levels of preform quality at the lowest total cost to produce, and is engineered to reduce the initial system investment and future tooling costs – making customers more competitive to capture market growth. On its booth Husky was displaying a 48-cavity NexPET mold, designed to be part of a complete NexPET system.
Husky Injection Molding Systems Ltd .is a leading global supplier of injection molding equipment and services to the plastics industry. The company has more than 40 service and sales offices, supporting customers in over 100 countries. Husky's manufacturing facilities are located in Canada, the United States, Luxembourg, Austria, Switzerland, China, India and the Czech Republic.
Source: Husky