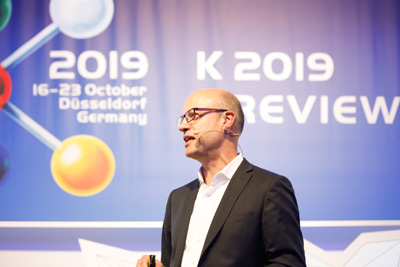 Pioneering Plastics – KraussMaffei repositions its brand

KraussMaffei merges its brands for Injection Molding, Extrusion and Reaction Process technologies under a single brand: KraussMaffei

Move into the era of digitalisation and circular economy: the company's new slogan is "Pioneering Plastics"

New corporate design to be unveiled to a wide audience at K 2019

Unique technological expertise in plastics processing
July, 03, 2019 - Munich-based mechanical engineering group KraussMaffei is reinventing itself. KraussMaffei, a provider of system solutions for injection molding, extrusion and reaction process technology (IMM, EXT, RPM), is now consolidating all business divisions and its previous brands KraussMaffei, KraussMaffei Berstorff and Netstal within a single, unified brand: KraussMaffei.
This repositioning is in line with the "Compass" corporate strategy, which has already brought about fundamental changes with the launch of the Digital & Service Solutions (DSS) business unit. For Frank Stieler (photo), CEO of KraussMaffei, bringing the brands together is a reflection of the company's identity: "KraussMaffei is a technological pioneer in the plastics industry, which supplies its customers across all industries with innovative and customised solutions – in line with our new motto: Pioneering Plastics."
As part of the repositioning, all subsidiaries and locations will operate under the name "KraussMaffei" from now on. Netstal-Maschinen AG (Näfels/Switzerland) will be known as "KraussMaffei High Performance AG". Its high-performance injection molding machinery will be integrated into the KraussMaffei portfolio under the established Netstal product brand, which means the Netstal name will still appear on the machinery itself. The KraussMaffei Berstorff brand which was used for Extrusion technology will be integrated in "KraussMaffei". KraussMaffei Berstorff GmbH (Hanover/Germany) will now be known as "KraussMaffei Extrusion GmbH". Visual evidence of the restructuring can be seen in a new corporate design throughout the company, which will be rolled out to a wider audience during K 2019.
The common appearance supports the further integration of the Injection Molding, Extrusion and Reaction Process Machinery divisions, which already work hand in hand for many applications (e.g. lightweight construction). This means that customers can select the solution that best suits them from the whole technology portfolio via their respective contact person. The areas of Automation and Digitalisation, the latter now represented by the DSS division, have long been developing innovative solutions across technologies.
The company says its new "Pioneering Plastics" slogan represents the pioneering spirit that has shaped the company and its locations and brands since it was founded in 1838. At a time when the public is commenting negatively on plastics, KraussMaffei has deliberately formulated this claim as a key performance promise. This is also the reason why KraussMaffei is committed to making a contribution to the development of a circular economy with new products and services.
Guests can see this in action at the K trade fair (hall 15, booth C24 – C27), where a polypropylene bucket will be recycled into a car's A-pillar. The Extrusion Technology and Injection Molding Machinery divisions will also be working together here. Polymore, the new B2B online marketplace for the purchase and sale of compounds, masterbatches, recycled material and post-industrial waste in Europe, is another example of sustainability.
"KraussMaffei is strongly committed to the circular economy and pursues environmental and social developments. We are aware of our responsibility when it comes to the environment and we are working on a number of projects to open up new business areas and partnerships with regard to recycling plastics," says Frank Stieler, underlining the company's commitment.
Image captions:
The KraussMaffei Group is among the world's leading suppliers of machinery and systems for producing and processing plastics and rubber. Its products and services cover the whole spectrum of injection and reaction molding and extrusion technology. The company markets its offering to customers in the automotive, packaging, medical, construction, electrical, electronics and home appliance industries. KraussMaffei currently employs around 5,500 people. With a global network of more than 30 subsidiaries and more than 10 production plants, supported by around 570 sales and service partners, the company is close to customers around the world. KraussMaffei has been headquartered in Munich since 1838.
Source: KraussMaffei